The fretless bass has a distinct tone and allows bassists to slide smoothly between notes. Those who take the time to master the instrument tend to develop a sophisticated and controlled playstyle. But while the instrument can sound amazing in the hands of an experienced bassist, is a fretless bass good for beginners?
Learning the fretless bass is more demanding for beginners than a fretted one. As the fretless takes longer to master, the likelihood of giving up on the instrument or feeling unmotivated early on increases. However, starting on a fretless bass will make you a more versatile and knowledgeable bassist in the long run.
Choosing a fretless as your first bass is a bold move. Depending on the tone you are looking for and your musical aspirations it can either be an amazing investment of your time, or deter you from playing the bass at all.
Therefore, I am here to help you decide whether a fretless is the right beginner bass for you or not.
You will learn what playing the fretless as a beginner will be like and what makes it different. You will also learn why people opt for a fretless over a fretted bass guitar.

How hard is it to play fretless bass?
Playing a fretless bass is harder than playing a fretted one. This is because it requires additional skills such as mastering intonation and phrasing. Building an understanding of the fingerboard will also be more challenging than on a fretted bass.
When Leo Fender first popularized the bass guitar, he called it the precision bass. This was because the frets on it made it easier for bassists to be precise in their playing than on the fretless double bass.
Playing in tune (intonation) is thus the main reason that fretless basses are more challenging than fretted ones.
There exist fretless basses with lines on them indicating where the frets would have been. This is of great help to beginners, but the lines do not solve the challenge of learning intonation. This is because aiming your fingers at the lines will not guarantee perfect precision. You will still have to make micro-adjustments to sound perfectly on pitch.

Related reading: Can you slap a fretless bass?

When starting out on a fretless, it also becomes tempting to use slides and vibrato often. These techniques sound smoother and are arguably easier to perform than on a fretted bass. Thus, you will need to learn when these techniques are appropriate and avoid overusing them, even though it feels tempting.
With that said, the main thing that makes it harder to play a fretless is intonation. As a beginner, it will also take more time to master and develop an understanding of the fingerboard. These are the two most challenging aspects of the fretless bass when compared to its fretted counterpart.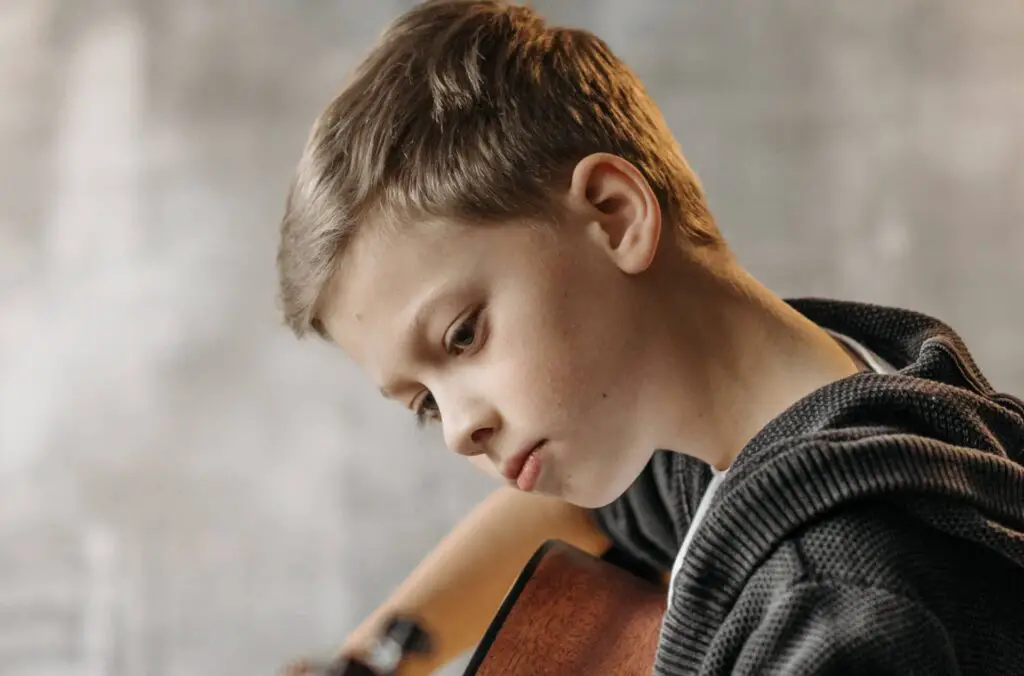 Can a beginner play a fretless bass?
A beginner-level bassist can start learning on a fretless bass. However, because the instrument is more challenging than the fretted bass, it can be harder to not give up on it and to master all the skills required to play the fretless proficiently.
I know a great bassist who started on a fretless and stuck with it. Granted, he was a skilled pianist and knowledgeable musician at that point, which helped. Bill Wyman of Rolling Stones fame, converted his fretted bass to a fretless in 1961 and used this to play on some of his earliest projects.
So if you want to learn bass using a fretless, you can. People have done so before and have become great bassists as a result.
However, it helps a lot if you have played a different instrument previously, have great pitch, or have knowledge of music theory. This is because pressing strings down at the right place is one thing, but you also need to know what pitch you are trying to play.
Developing good intonation will be harder if you cant hear whether the note you are playing is on pitch or not. Thus, if the fretless bass is your first instrument ever, you will have to develop your ear in a way you wouldn't have to on a fretted bass.
With that said, as long as you stick with the fretless despite the harder difficulty, you will develop into a more knowledgeable and versatile musician than if you started on a fretted one.

Why do people like fretless basses?
Fretless basses have a warmer tone with a lot of personality and nuance. Legendary bassists like Jaco Pastorius and Michael Manring have utilized fretless basses to great effect, which has inspired other bassists to do the same.
Due to its tone, the fretless bass is most commonly used in Jazz and for solo play. While less common, it has also seen use in other genres like pop and rock. Among others, artists like David Bowie and Peter Gabriel have utelized its sound in atypical genres.
Below is a beautiful solo piece by Damian Coccio that showcases what type of tone is possible on the fretless. Also, notice how the bass has both lines and dots on it. This makes the fingerboard less intimidating and easier to learn for beginners.
So when people ask what the point of a fretless bass is, the answer is generally to play in the style Damian did, or to get a smooth jazz sound.
While they sound great, playing a fretless also comitts you to a distinct tone. Thus, fretless players who play in a multitude of genres often switch between a fretless and fretted bass.


Conclusion
For most beginner level bassists, I would not recommend starting with a fretless bass. It will take longer before you start to sound good. You will also have to develop skills that are not essential for a beginner.
However, if you are in love with its tone, techniques and are looking to play genres where the instrument is appropriate, starting with a fretless is a great choice.
It will be harder, but you will also be much more motivated. Furtheremore, playing a fretted bass and not being able to get a suitable tone or developing the skills you want to, could end up detering you from playing.
What type of bass you start with all comes down to what you are looking to achieve and how much effort you are willing to put in. Thus, consider what you have learned in this article to decide whether you are willing to put in the effort to learn bass on a fretless, and whether it will be worth it.

When buying your first bass, you should not only consider whether it has frets, but also the length of it. For some, its better to start on a short-scale bass than the commong long-scale. You can read more about whether you should start with a short-scale bass here.